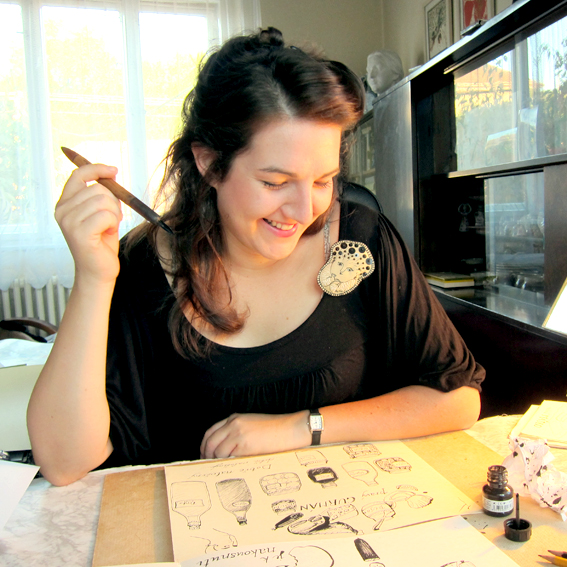 Anna Mastníková
born 12. 1. 1987
I am an illustrator and animator focusing above all on the classic hand-drawn animation and puppet animation. I also make puppets for animation purposes and original author toys.
On this website you can find a showcase of my movies, drawings, illustrations, puppets, toys and last, but not least, brooches.
In case of your interest in collaboration with me, don't hesitate to contact me.
Work experimence
2014
Lector of animation workshops at the Karel Zeman Museum (Museum of Special Film Effects)
A cooperation with the HRANA magazine (illustrations)
Making of puppets and decorations for the classic animation movie "Až po uši v mechu" (director: Filip Pošivač, Bára Valecká, Hafan Film)
Illustration for the children's book "Žížalí pomazánka pro Davida" ("Worm spread for David", written by Blanka Čapková), published by Albatros
Illustration for the children's book "O panáčkovi" ("About a little boy", written by Jana Šrámková), published by Běžíliška
2012
Stop Motion Animation Workshop in Budapest dealing with classic puppet animation – lectors Bedřich Glaser, Barry Purves, Marry Murphy
2011
Stop Motion Animation Workshop in Budapest focused on making and animation of a classic puppet – lector Barry Purves
2011
Talent Camp in Odense, filmakers' workshop and a film festival
od roku 2009
Lecturing animation at workshops for children as well as adults
2009
Cooperation on making the movie Swallows by Veronika Bakošová
2008
Four months long internship – working on the animated film of Jiří Bárta – In the attic.
Education
2007 – 2013
Academy of Arts, Architecture and Design in Prague – Department of Film and TV Graphics
2011
Internship at École supérieure des arts décoratifs de Strasbourg – department of Illustration – head of department: Guillaume Dége
2010
Internship at the department of Illustration at the Academy of Arts, Architecture and Design in Prague
2006 - 2007
Tomas Bata University in Zlín – Animation
2002 - 2006
Highschool of Arts and Crafts in Brno – Scientifical artwork and Illustration under Pavel Dvorský
Filmography
2013 Ota Tulil
2011 Dessert
2009 Bizzarre shoe
2009 Coffeine Death
2009 Like any other
2008 Madame Kolomaznikova
2007 Pastry Cook
2007 Trip
Festivals, participations and awards
2012 FeminaFest - film Dezert
2012 Anifest - film Dezert
2012 Ishorts - Czech Short Films – Dezert
2012 Nomination for the Magnesia Award for the best student movie 2011 - Dessert
2011 Inside Out Toronto LGBT Film and Video Festival – Like any other
2011 Anifilm - film Dessert
2010 Night of Film Prospects – Bizzare shoe
2009 Animatorama in Zlín – movies Pastry Cook and Trip; Night of Film Propects – Madame Kolomaznikova
2008 Anifest in Třeboň – movies Pastry Cook and Madame Kolomaznikova; Honorable mention from Feminafest for the movie Madame Kolomaznikova